The PRINCE2 7 Foundation course is a 3 day program aimed at developing an understanding of the elements that make up the PRINCE2 project management methodology. This training is also designed to aid project team members understand how to work effectively in a project environment using PRINCE2.  PRINCE2 Foundation certification is also a pre-requisite for the Practitioner certification.
Throughout the PRINCE2 Foundation training, we will explore the composition of the methodology and illustrate how it is applied to facilitate a controlled project management environment.
A unique feature of our PRINCE2 Foundation training is the inclusion of case study exercises to illustrate the application of PRINCE2 on a given scenario. This will also allow an early introduction to Practitioner level learnings for candidates continuing onto the PRINCE2 Practitioner course.
PRINCE2 Foundation Training
The PRINCE2 Foundation program includes:
Presentations and exercises aimed at developing an understanding of the 5 elements of the PRINCE2 method and their integration
Review and revision sessions
PRINCE2 Foundation exam preparation, with the PRINCE2 certification exam completed online following the training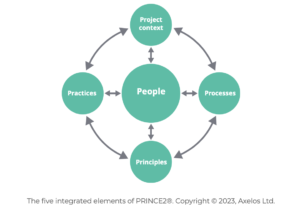 ---
PRINCE2 Principles
Our PRINCE2 project management training includes detailed explanations of the following 7 principles that underpin the PRINCE2 method:
Ensure continued business justification
Learn from experience
Define roles, responsibilities and relationships
Manage by stages
Manage by exception
Focus on products
Tailor to suit the project
---
People
Defining how people are central to project success and the key concepts relating to the people element of projects:
Leading successful change
Leading successful teams
Communications
---
PRINCE2 Practices
Understanding the purpose, management products, concepts and techniques associated with each practice, their effective application as well as their relationship with PRINCE2's principles.
The 7 practices:
Business case
Organizing
Plans
Quality
Risk
Issues
Progress
---
PRINCE2 Processes
There are seven management processes as illustrated below. These processes form a project management lifecycle and provide project teams a step-by-step guide on when, how and who should apply selected project management activities.
These processes support the appropraite application of the seven principles and seven practices: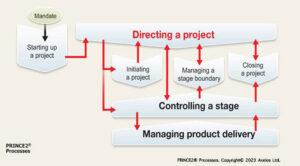 ---
Project Context
Sets the organization and commercial context in which PRINCE2 can be applied, the applicable delivery methods, sustainability requirements and project scale.
---
Certification Exam
The PRINCE2 Foundation certification exam is completed as an online exam following the completion of the training. Candidates select their exam date and time based on available slots. Exams are taken online from the candidate's own location using a webcam exam proctor, where an invigilator will be observing them take the exam.
The aim of the Foundation exam is to assess a participant's understanding of the PRINCE2 methodology. Our training program includes revision and exam technique sessions, with two sample exams to be completed by participants.
Sample exam questions are reviewed together with the trainer to further the participant's knowledge and provide guidance on approaching the exam.
What's Included
Accredited training materials
Official PRINCE2 eBook
Pre-course readings
Electronic version of official PRINCE2 Foundation Learner Workbook
PRINCE2 Foundation quick reference guide
Two Foundation sample exams and answer rationale documents
Exam fee
One month free subscription to MyAxelos membership program
Official e-certificate upon passing exam
Lunch, coffee/tea and refreshments (in-person public courses only)
Professional training venue (in-person public courses only)
Accredited PRINCE2 trainer
The PRINCE2 Foundation exam is completed online within 6 months of completing the Foundation training.
Exam Format
Multiple choice style
60 questions per paper
36 out of 60 marks required to pass (60%)
60 minutes long (1 hour)
Closed book.
A discounted rate applies when enrolling into PRINCE2 Foundation and PRINCE2 Practitioner together.
For Foundation Plus Practitioner classroom training, the Practitioner session can immediately follow the Foundation course, or a later date can be selected to complete the PRINCE2 Practitioner training.
When completing Foundation and Practitioner training, both exams can be taken after the Practitioner course.
View our public course classroom dates and pricing or purchase a self-paced PRINCE2 online training package.
Contact us to learn more about our in-house Foundation Plus Practitioner corporate training programs.
Target Audience
Target audience includes:
Project managers
Project assurance members
Project team members
Change managers
Project Board members
Portfolio, programme and project office members
Training Approach
Our PRINCE2 Training courses apply a mix of learning techniques including presentations, review and revision sessions, sample exam questions, class and case study exercises to develop understanding of the PRINCE2 method. Our PRINCE2 Foundation training program is designed to facilitate an active and enjoyable learning environment.
PRINCE2 Foundation course can be followed by the PRINCE2 Practitioner course, within the same week or completed at a later date.
Training Options
Public training
Learn PRINCE2 project management by attending one of our public training programs. View our next training dates.
---
Corporate in-house training
Our courses can also be delivered at your selected location or online. Contact us to request a quote for our in-house course pricing.
---
Self-paced e-learning
Learn PRINCE2 at your time and place.
---
Other Courses
Prince2training.com.au also offers other courses like: