PRINCE2, PRojects IN Controlled Environments is a generic project management methodology that describes the key elements for controlling any project, regardless of its type or size.
Today, over 2 million people hold a PRINCE2 certification and thousands of organisations have adopted PRINCE2 or a tailored version as their standard for project management.
PRINCE2 is recognized as a proven project management framework and is often referenced as 'best practice' project management.  The methodology comprises of five core project management elements known as Principles, People, Practices, Processes and the Project Context.
As projects operate in different environment types, PRINCE2 is designed to operate in any context, organizational or commercial. It can be adapted to suit project scale, support the selected project delivery method (linear or agile), and tailored to suit team capability and project risk level.
Guided by PRINCE2 principles, the project's context is a key consideration in ensuring it is fit for use.
PRINCE2 Principles
There are seven core principles on which PRINCE2 is based on:
Ensure continued business justification
Learn from experience
Define roles, responsibilities and relationships
Manage by stages
Manage by exception
Focus on products
Tailor to suit the project
PRINCE2's process lifecycle and practices are designed to support the application of these guiding principles.
PRINCE2 People
PRINCE2 describes three people-focused activities:
Leading successful change
Leading successful teams
Communications
The people element is at the centre of the PRINCE2 method ensuring project teams are considerate of both the capabilities and relationships to enable effective performance and successful change.
PRINCE2 Practices
There are seven practices described by PRINCE2.  Each practice describes an aspect of project management that must be applied and addressed continually across the life of a project. In each of the following seven practices, PRINCE2 describes core project management concepts, techniques, roles and responsibilities needed to support its application.
The seven Practices and their aims:
Business case – establishing an approach aimed at ensuring the project is and remains desirable, viable and achievable
Organizing – establishing a structure of accountability and responsibility
Plans – facilitates communication and control, by defining the products to be delivered and the means to deliver them to satisfy the project's business case
Quality – to capture the user's requirements of the project's products and to establish a means by which they will be met
Risk – identify, assess and control uncertainty that could affect the project's objectives, by establishing a framework to improve the chances of success
Issues – establish a procedure to capture, assess and control issues and changes to the project's baselines
Progress – establish mechanisms to monitor and forecast the project's performance, its viability and enable control of deviations
PRINCE2 Processes
PRINCE2's process lifecycle describes seven processes to guide a project's start-up, delivery stages and closure.
Each of the seven processes has been purposely designed to support the application of PRINCE2's principles, people and practices. The processes include a sequence of activities, identifies responsibilities and outlines documents to support its effective use.
The PRINCE2 method process lifecycle diagram: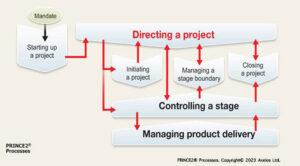 In summary, where many project management standards focus on explaining 'what' a project manager needs to know, PRINCE2 through its process lifecycle also provides a comprehensive list of recommended actions to help apply the 'why', 'who', 'what', 'how' and 'when' in a well considered and logical order.
Together with its focus on business justification, detailed roles and responsibilities, attention to scaling and tailoring, has made PRINCE2 the leading project management method.
Enquire Now!
Corporate in-house training
Our courses can also be delivered at your selected location. Contact us to request a quote for our in-house course pricing.